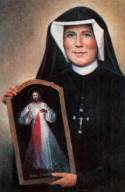 What is Divine Mercy?
The message and devotion to Jesus as The Divine Mercy is based on the writings of Saint Faustina Kowalska, an uneducated Polish nun who, in obedience to her spiritual director, wrote a diary of about 600 pages recording the revelations she received about God's mercy. Even before her death in 1938, the devotion to The Divine Mercy had begun to spread.
Divine Mercy Devotion in Notre Dame
The Feast of Divine Mercy of 1997 marked the beginning of the visitation of our homes by Jesus in the Icon of Divine Mercy. Every family is asked to receive the icon for one week in their homes and to spend that week in a special way in prayer and meditation. Jesus visits our homes by means of the icon so that we can meet Him not only in the church but also in our everyday reality of life.
The visitation of our families by Jesus emanates from the care of the Church for our families. In spite of all difficulties to guard our families we must not alter the precepts of the Gospel and give in to indifference and hopelessness. We must not lose hope. For this reason Jesus comes to our homes. He comes to strengthen us on our road of Christian life. He comes in order to guard our families, in order to protect defenseless babies under their mother's hearts so that none of them will be killed. He comes to save our families from the disaster of alcoholism and drugs. He comes to touch our wounds, embrace broken families and bring peace to those afflicted by discord. He comes to touch the pains of our everyday life.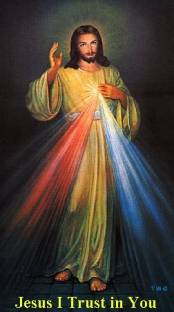 Practical remarks for families receiving the Holy Icon:
The receiving of the icon of the Divine Mercy has characteristics of the profession of faith therefore I encourage you to be reconciled with God and your neighbor.
The icon should be placed on a small altar tastefully prepared.
Let every home be a home of prayer. Particularly children and young people should be encouraged to join the prayers.
During the presence of the Icon a holiday mood should prevail, marked by joy and peace. In spite of your domestic and job commitments please remember that the family celebrates a feast - the great week of meeting with Jesus.