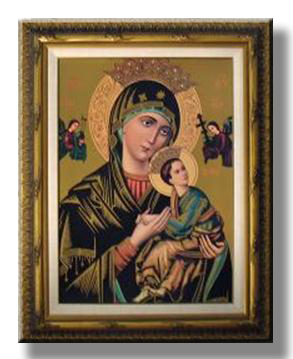 Notre Dame Parish: '135 Years Young'
As Christianity increased, particularly among the Aboriginal People, the mission house became too small for religious service. A vacant Methodist church built in 1877 and located on Dufferin Avenue was purchased. The blessing of this new church took place in the fall of 1887. The Oblates continued to serve the needs of the parish and many far away missions until 1904. They felt the parish was well enough established and could maintain itself. They donated the church and property on Dufferin Avenue to the parish, rented the mission house and severed a beautiful relationship which lasted over 25 years. Father Louis de Gonzague Belanger became the first resident pastor.
At that time more and more families were moving to Selkirk, mostly of English and French ethnic backgrounds. By 1910, many Polish families had begun homesteading around Selkirk. Many of these were of Catholic faith and found it very difficult to communicate with their priest as he could only speak French or English. It was not until November 1931, that Father Joseph Kreciszewski, the parish's first Polish speaking priest arrived, much to the delight of many Polish families.
In 1932, the church was enlarged and the name changed. Archbishop Arthur Alfred Sinnott blessed the new church on 11 September 1932 in the name of Our Lady of Perpetual Help, and henceforth became known as Notre Dame, a French translation of Our Lady. Through many trials and tribulations, but with continued faith, the church grew and saw many changes throughout its history. Under the leadership of Fr. Maryan Francis Orlinski, who served as Pastor for 37 years, the parish continued to grow.
The growth was particularly evident in the 60's when it became necessary to build a larger church. Property was purchased on Toronto Avenue in the center of town. With a great deal of work and dedication, His Grace George B. Flahiff, Archbishop of Winnipeg blessed the new church on August 28, 1964. This larger and present day church located at 269 Jemima Street has since become a community edifice, not only serving the needs of the parish but also serving the community on such occasions as graduations, choral and ecumenical services.
The unknown Oblate Missionaries served the neophyte church from 1877-1879. And through the parish's 135 years history, the following priests served as pastors, and some were administrators:
[I] Rev. Jean Baptiste Baudin, OMI [1879-1881]; [2] Rev. Joachim Albert Allard, OMI [1881-1898]; [3] Rev. Joseph Alexis Prosper Magnan, OMI [1898-1903]; [4] Rev. Joseph Thibaudeau, OMI [1904]; [5] Rev. Louis de Gonzague Belanger [1904-1907; 1911-1914]; [6] Rev. Charles Deshaies [1907-1909]; [7] Rev. Joseph Eugene Derome [1909-1910]; [8] Rev. N.A. Ruelle [1910]; [9] Rev. J.H. Prud'homme [1911]; [10] Rev. J. Eugene Tetrault [1914-1915]; [11] Rev. Rudolph Alexander Dumoulin [1915-1917]; [12] Rev. John J. Blair [1918]; [13] Rev. J.C. Caisse [1919]; [14] Rev. Jacques Bertrand [1919-1929]; [15] Msgr. Maurice Alonzo Cournoyer [1929- 1931]; [16] Rev. Ladislaus Joseph Kreciszewski [1931-1933; 1934-1935]; [17] Rev. Maryan Francis Orlinski [1933-1934; 1935-1971]; [18] Rev. Charles Lukasik [1934]; [19] Rev. Arthur Seaman [1971-1978]; [20] Msgr. Zygmunt Anthony Julian Baczkowski [1978-1980]; [21] Rev. Gerald Craig, OFM Cap [1980-1982]; [22] Rev. Louis McCloskey [1982-1987]; [23] Rev. Henryk Laciak [1987-1992]; [24] Rev. Terence McGrath [1992-1995]; [25] Rev. Henryk Uczniak [1995-1999]; [26] Rev. Boguslaw Wardzinski [1999-2006]; [27] Rev. Diosdado Parrenas [2006-2012]; Rev. Stan Gaycek [2012-Present].
Let us give thanks to the Lord who keeps faith forever as we celebrate our Notre Dame Parish's 135th Year Anniversary!
[Prepared by Mrs. Alice Belanger, Parish Historian]